THE PROTECTED NATURE REGIONS IN SOUTH OF FRANCE - NEW HIKING IDEAS IN 3 OF THEM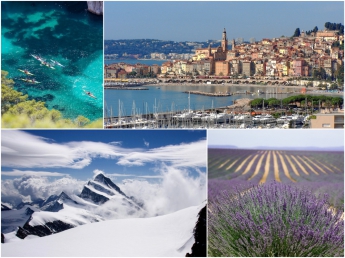 The region of Provence-Alpes-Côte d'Azur has today 6 regional natural parks, which places it first in the national ranking. From the Camargue to the Queyras, passing through les Alpilles, le Luberon, le Verdon or the Préalpes d'Azur, these lands reflect the diversity of tourism in the region.
CAMARGUE :
Wild land, unique in France, born of the union of the sea and the Rhône, the Camargue enjoys international notoriety. It's a rich land for the observation of fauna and flora, that the regional Park maintains with passion. Keen to safeguard traditions, it offers numerous activities : paths for bird-watching, rides on horseback, visits to herds, local food...and many other things to discover !
ALPILLES :
Here, culture and landscape are as one. The Alpilles, provencal land par excellence, offers a diversity of natural habitats rarely observed: from its ragged crests there opens a panorama of alternating cliffs, valleys, piedmonts, plains. The attachment of local people to provencal traditions is apparent throughout the whole year in village life in the Alpilles.
LUBERON :
The Luberon is one of the emblematic symbols of Provence. This land with its remarkable heritage of landscapes and architecture is a leading place for green and cultural tourism. From villages perched high up in the Gordes, Lacoste or Menerbes to county markets, passing through the flaming ochres of roussillon, discover its exceptional and diverse geological heritage and treat yourself to some outstanding natural escapes.
Publié le 22/03/2016