THE PROTECTED NATURE REGIONS IN SOUTH OF FRANCE : 3 NESTED IN THE ALPS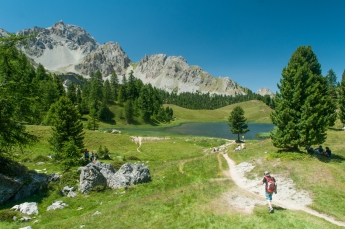 These 3 other natural regional parks offers mountain walks that suits to sport activities as well as farniente. The alps sunny mountains !
VERDON :
From the torrents ro waterfalls of the mountains to the calm waters of the reservoirs, follow the turquoise water to discover the regional natural park of Verdon. It's during the spring and autumn that you will most enjoy the beauty of these striking landscapes. The visual impact of this land of contrasts never fails to amaze.
QUEYRAS :
You want to take in a large breath of fresh air ? Come to the regional park of Queyras. Nestling in the Hautes-Alpes, close to the italian border, le Queyras, protected by a mountain wall reaching a height of 3000 meters, enjoys an ideal sunny climate.
Set off on a tour, along the numerous nature paths, and discover a wonderful natural conservation area of flora and fauna in the Mediterranean alps. Here knowledge and traditions combine and contribute to the friendly atmosphere and preservations of authenticity in the villages.
PREALPES AZUR:
The last of the regional natural parks to be created is a land of constant changes, with multiple riches to enjoy between the Alps and the Mediterranean. From the exploration of underground galleries to the discovery of village high up in the mountains with their striking medieval architecture, through to numerous open air activities, the prealpes d'azur has some serious attractions to tempt you.
Publié le 22/03/2016